WELCOME TO BUZZANCO'S GREENHOUSES & FARM
Angie Buzzanco's grandfather came from Italy in 1900 and settled in Ulster County in the town of Ulster and bought an 108 acre farm in what is also known as Kingston. Angie is a third generation farmer with 14 greenhouses and invites you to COME & SEE THE GROWER and buy local!
Buzzanco's Greenhouses & Farm specializes in annuals, perennials, hanging baskets, rare plants, Geraniums, Fig Trees, Ferns, Jade and other houseplants, Proven Winner Plants, 60 types of herbs, hardy mums and pumpkins, fresh tomatoes and vegetables and much much more!
Locals know to visit Buzzanco's for unusual plants that you don't find at the Big Box stores.
COME & SEE THE GROWER - Buzzanco's grows everything!
Starting Saturday April 30, 2023
Open 1pm - 5pm - 7 Days a Week!
Fall Hours starting September to October 31, 2023
Open 1pm - 5pm - 7 Days a week!
Hydrangeas - Blue, Pink & White
TIP: Can plant in sun or shade. Best planted outside in May. Requires watering every day.
We carry unusual Mixed Hanging Baskets for sun and shade.
Tip: Lobia, Petunias, Bacapa grow best in sun. Water once a day.
Philodendron, Marblequeen Pothoes grows best in shade. Water about once a week.
Nonstop Begonias – Assorted Colors
TIP: Grows best in morning sun. Blooms all year round.
Keep plant moist. Don't over water.
Cactus – Various Aloe, Round, Echeveria and a huge selection of cactus.
TIP: Sun only. Water one time a week.
Fig – Turkey Brown Figs
TIP: Grows best in sun. Lots of water every day.
That's what makes the fruit juicy.
Pitcher Plants, Easter Cactus, Gerbera Daisy
Some of the Greenhouses and Perennials at
Buzzanco's Greenhouses.
An assortment of Perennials.
White Lilies
TIP:  Plant in Sun or Partial Sun
Hanging Baskets and Geraniums
Tip:  Plant in sun
Pumpkins & colorful Gourds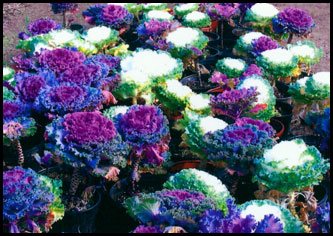 Flowering Kale
Used as decorative accent in Fall
Buzzanco's carries an assortment of Mums in all colors!
Jade
Blooms from November to March
Gourds, Mini Pumpkins & Squashes
[Back to Top]